Včera jsme s Vrahem konečně otestovali Burger King na Zličíně. Stejný nápad jako my mělo ovšem víc lidí (zdravím všechny známé, které nepotkám, jak je rok dlouhý, ale u BK jsme se spolehlivě sešli :-)).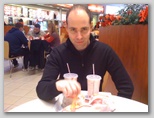 Ačkoliv ostatní "žrádelny" zely prázdnotou, fronta před BK prodloužila naše čekání na první sousto českého Whoppera o zhruba patnáct minut a nedá se říct, že by zaměstnanci mezitím zevlovali. Dojmy: Whopper dobrý, kvalitou srovnatelný se zahraničím, ale přišlo nám, že mu něco chybí. Ne skladbou, ale chutí… Dresing, koření, prostě neco, co jsme nedokázali popsat. Onion Rings se na reklamní plochy nevešly, v nabídce jsou: 6ks za 35 Kč; bohužel chuťově daleko za věhlasnými Onion Rings z myčky v downtown LA. Nevýhoda je, že v menu jsou jen hranolky a nemáte možnost si je vyměnit s OR. Hranolky dobré, lepší než v McD nebo KFC, podle Vraha ale na Fridays nemají. Ceny akceptovatelné, až na ty fronty dobré. Super, že je BK tak daleko, už dlouho jsem se takhle nepřejedl. Naposled na benzince u Norimberku při testování Tripple Whoppera (nebojte, toho mají taky, stačí se jen ptát, protože na obrázky u nabídky se jim vešla jen zhruba 1/3 sortimentu).
Možná jsem byl posledních pár dní mimo z čekání na BK. Teď, když už jsem zpátky v normálu, si můžeme v klidu odargumentovat prodejnost Score, kterou jsem naťuknul v posledním příspěvku o končícím herním magazínu. Považuji za nečestné a nesportovní, když Bludr mou mimózu z BK vztahuje k těmto číslům a snaží se na Score fórech navodit dojem, že se jeho časopisu prodává více než 10 tisíc kusů. Je tedy na čase podložit číslo fakty.
Porovnání kvality obou časopisů si každý může udělat sám. Nebudu zde dělat dva sloupečky a vypisovat na jedné straně plné hry Levelu a na druhé plné hry Score, stejně jako aktuálnost recenzí na současné žhavé pecky a další zajímavá témata. Jednak si to může udělat každý z vás a vyhodnotit to dle svého vkusu, jednak by mi to rozhodilo design, který sám o sobě není žádná hitparáda. Odkážu se jen na oficiální čísla Unie Vydavatelů a posledního průzkumu MediaProjekt. Tato čísla jsou za období 1.4.-30.9.2008. Píše se v nich:
LEVEL: čtenost 106 tisíc, prodaný náklad: 15.762 ks.
SCORE: čtenost: 71 tisíc, prodaný náklad: neověřován.
Navíc, podíváte-li se na měsíční zprávy ABC ČR, zjistíte, že čtenost Levelu v poslední době spíše klesá než roste, v září to bylo o 500 kusů méně než průměr uvedený v průzkumu. Předpokládejme, že chování spotřebitelů obou časopisů je stejné, nebo minimálně srovnatelné, a tak můžeme jednoduchými počty přijít na to, že prodaný náklad Score klesl pod 10 tisíc. To jsou fakta, žádný kecy.
Když si udělám paralelu v prodejnosti a ziskovosti, je otázka, zda u Score stále platí údaje o rentabilitě z letošního léta. ABC ČR audituje také inzertní výtěžnost médií a podle ní mělo v říjnu Score 11,8 inzertní strany, u Levelu to bylo 28,3. Záměrně to nepřepočítávám na peníze, protože ceníková cena inzercí v papírových časopisech jsou absolutní hausnumera a neznám nikoho, kdo ji nakupuje za plnou cenu (běžně vám nabízejí slevy 50-70%), navíc si nedělám iluze o množství barterů, které jsou do tohoto také započítány. A to je říjen lepší než průměrný měsíc, neboť začínají vycházet inzeráty s vánočními nabídkami. Nevím nevím, jako vydavatel bych tyto alarmující údaje rozhodně nepodceňoval, už proto, že je na lehkou váhu nebral ani kamikadze -ml- v případě dramatu zvaného Excalibur Resurrection.